Welcome to the Calaveras Genealogical Society (CGS) website.  Calaveras County is in the California Mother Lode, an area that drew men seeking adventure and riches from all over the world during the Gold Rush, descendants of whom still live here today.  Since forming in 1991, CGS has provided monthly meetings in San Andreas, annual seminars and occasional workshops to help members and visitors discover their ancestors' stories. Membership has additional benefits, shown below with an asterisk *.    If you're in the neighborhood on the second Tuesday of most months, stop in and see us at the Central Library on Gold Hunter Road.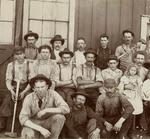 Next Meetings
March 13:
"Easy Peasy Sourcing," presented by Richard RANDS. He is the primary author of the genealogy documentation manual "Family History Documentation Guidelines", and considers himself a documentation evangelist. He  teaches quick and easy approaches to sourcing to show your information is based on real sources, to facilitate easy access to sources to resolve conflicts, and to avoid junk genealogy. Richard is former president of the Silicon Valley Computer Genealogy Group and former Director of the Los Altos Family History Center. 10 a.m.-12 noon
Writers' SIG
These meetings will be from 12:30 p.m. - 2:30 p.m. in the Chesebrough Room at the Calaveras County Library.
Check out the CALENDAR PAGE for additional information and to see the upcoming schedule of monthly meetings, workshops and seminars.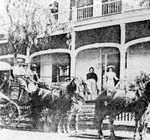 Upcoming Events
Calaveras Genealogical Society Services
MONTHLY MEETINGS
Are open to the public.  Held the second Tuesday of each month from 10:00 a.m. to 12:00 Noon in the Chesebrough Room at the Calaveras County Library, 1299 Gold Hunter Road, San Andreas.
June's social meeting typically includes a tour of a local historical location and stories told during the tour of the pioneer families of that area.
December's social meeting includes the opportunity to network with other researchers and share stories of brick wall breakthroughs or new research methods. 
SPECIAL INTEREST GROUPS (Meet every other month as explained below)
Technology for Genealogy: To help members with problems related to technology and their genealogy.  either genealogy program assistance, or other devices like scanners, printers, tablets, etc.  This Group will meet on EVEN number months after our general meeting in the Chesebrough Room at the Library in San Andreas. 
Brick Wall Busters: A group to help members break through their brick walls.  Group sharing of the brick wall, and group discussion on steps to take to break through.  This Group will meet on EVEN number months after our general meeting along with the Technology for Genealogy Group in the Chesebrough Room at the Library in San Andreas.
Writers Group:  If you are interested in getting started or continuing with your writing project, then this group is for you.  This Group will meet on ODD number months after our general meetings in the Chesebrough Room at the Library in San Andreas. 
LIBRARY
CGS owns a large selection of genealogical research books, periodicals, and magazines in a dedicated genealogy section at the Calaveras County Library in San Andreas.  Items cannot be checked out, but are available to do research in the library.  A list of books and other resource materials is available on the Froghorn & Library Page.
CALAVERAS DEATH INDEX AND CEMETERY PROJECT
A comprehensive index utilizing old mortuary records and cemetery lists to make an index available to family researchers, including as much information as possible about the deceased.  Check out the Finding Them page for more information.
LOOKING FOR SOMEONE IN CALAVERAS COUNTY?
Fill out the contact request form with the information you are looking for and a CGS volunteer will help with researching and email the results to you.
They cannot obtain birth, marriage or death certificates which are only available for a fee from the Calaveras County Recorder.
* "The Froghorn" - A Quarterly Newsletter
Either emailed or mailed to members, depending on their preference. Each issue features a cover story by a CGS member, CGS news and calendar of upcoming CGS meetings and events, a calendar of many genealogy events in Northern California, research tips and articles on a wide variety of genealogy research topics.
* Mentoring Sessions
For help with your genealogical questions, experienced researchers are available after the monthly meetings to assist you.are available upon request after the monthly meetings, led by an experienced researcher.
* Special Emails
Reminders of our monthly meetings that provides name of the speaker(s) and program topics where members can learn new ways to do research and network with other genealogical researchers.
Tips, tricks, and information on genealogical websites, freebies for genealogy researchers, and other great information.
* Special Discounts
Discounts on CGS seminars, workshops and research trips.
* Surname Research Outreach
Opportunity for members to place the surnames they are researching on the Surname Directory on our website, where others who are researching the same names are able to make contact to share information.  Check out the list of names on the FINDING THEM resources page, under Surname Directory.